The following excerpt appeared in the June 6, 2001 edition of our tribal newspaper, in an article titled "A Memorable Memorial Day Weekend Celebration."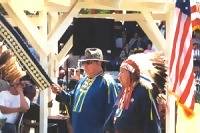 Chief Clayton Winneshiek
"Carrying on an old tradition, clan leaders announced the new traditional chief on Sunday. Clayton Winneshiek, son of Chief Benjamin Winneshiek, was recognized as the traditional leader of the Ho-Chunk Wazijaci.
Chief Clayton Winneshiek of Black River Falls replaces Chief Michael Winneshiek, who passed away last year.
Clan Leaders placed a war bonnet upon Chief Clayton, followed by an elaborate give away and honor dance.
Leaders from neighboring tribes expressed their gratitude for witnessing the traditional event. Spectators from across the world were so impressed by the event they expressed their thanks by donating to the pow-wow."

To view the inauguration of Chief Clayton, click here.

Go to next page to learn about the Ho-Chunk Nation's Memorial and Labor Day Pow Wows.
Back to Table of Contents